happy 25th birthday adik!
(semalam, actually)
i know you had the worst birthday ever but i bet it was definitely a blast for u in the end :P
to lili, fawah, atiya, nat & arlina ZHANK YOU girls for making it happen.
& thanks to jasz coz jadi the best actor of zhe year and also sudi jadi "tetamu terhormat" :P huhuhu nasib baik tak banjir ja bangsar tu tahu?
to mama, thank u oso coz jadi pelakon extra & tlg masak chicken pie & desserts. walaupon last minute but the food was AWESOME!
oh yeah & many thanks to rina & qistina (serai's owners) coz kesian kat i. i couldn't find any other cake yang sesuai for the event accept for serai's pavlova (coz its the bday girl fav!) mula-mula their staff tak nak bagi i beli the whole pavlova coz i tak order a day earlier, but then i managed to pujuk the owner. i was sooooooo freakin happy when she said okay.hehe seriously THANKS a lot :D
last but not least thank you JAY! Bday girl was super excited to see your cupcakes.we're sooo happy to get few pieces of them ;)
celine cupcakes ordered from jay few weeks before
if yg real punya nak kaler ni boleh?
kaler ni pon not bad :p
we ♥
♥
♥
♥
♥ these! thanks again jay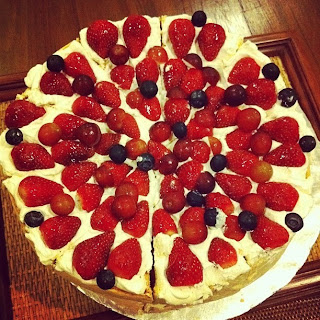 first serai's pavlova we had since the explosion.hohoho
Sisters are like rainbows. They bring in 7 great emotions in your life. Joy, laughter, anger, jealousy, dreams, surprises and companionship. You're the rainbow of my life dear sis. Wishing you a very Happy Birthday.