we're now back in KL and back to reality da seminggu lebih da pon :( my lil aidan pon dah sedih sedih kena tinggal kat nursery balik. best la tu kan aritu dapat berkepit ngan mama papa 24 7 kan? kan? hehe mama pon sedih jugak :p
flight 13jam to LHR tu record flight paling lama aidan naik. phewwwwww, i'm glad it's over! I'm glad coz I tak suka bau airplane! Tak tahulah kenapa the smell tu selalu buat I sakit kepala! O.o Well as for Aidan, alhamdulillah he 's okay all the way!! Ada la ngamok cket-cket, tipula if tak ngamok lansung kan :p
(for tips, travelling with babies read:
here
)
*For older babies, do NOT forget to bring his fav toys, fav snacks, fav pillow, fav blanket to make him comfy.For long haul flight, do choose night flight . There is more chance that your baby will sleep through at least some of the journey :)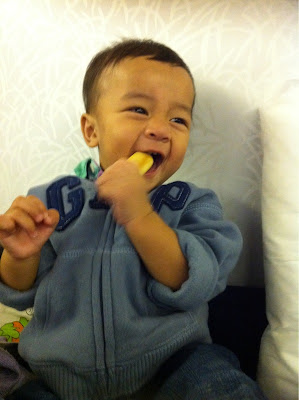 his favourite cookie saved me :D
actually this our first time naik flight bertiga. tu yang agak gabra cket. sebelum ni my mum selalu ada. gi mekah aritu lagi la ramai kaum kerabat nak main-main ngan aidan. hehehe tapi okaayla experience has taught me a lot.
alamak, i tak reti la nak cerita cerita what's happening from day 1 til day 8. nanti i'll upload gambar je la k. then from the picture i letak caption dia. okay tak? am not so good with words. boohoo! :(
DAY ONE
it was freaking cold! what was i thinking? bajet cool la tu tak pakai jacket
sampai-sampai tu we all rest kejap, refresh ourselves, makan kebab, top up oyster card then terus kuar pegi town. hehe my poor baby jetlag :) btw hmm i thought it was summer but suhu petang tu 9 degrees! crazy.
at trafalgar square - tak posing pon kat sini. sejuk sangat. tak tahannnnn!
at Jom Makan, lapar + sejuk nak mati. muka pon monyok hahaha
lepas dinner kat jom makan. teros balik rumah. we all dah tak tahan dah kesejukan yang amat.
DAY TWO
hari kedua, misi mencari laduree. hehehe berbekalkan application google map, berjaya jugak jumpa laduree di burlington arcade ni. haaaaaa puas hati dapat beli 15 biji macaroons perisa caramel & coffee eclairs! oh sedapnya.
ohh macaroon, i miss you already!!




& bermacam-macam lagi kuih muih mat salleh
lepas dah puas hati dapat jumpa macaroons tu. we all naik bas plak untuk misi ke 2, melawat
primark
. hehehe. if u all sampai ke london. primark ni wajib pegi ok. motto dia "look good & pay less". & memang betol pon. baju baju dia memang stylo mylo and memang murah gila. bukan baju sahaja tau. handbags, sunglasses, shoes, barang make up, you name it :) hehehe. hari kedua, tu je la kot activity rasanya. coz nak cari laduree tu pon nak dekat sejam. then kat primark berjam-jam. oh and then we all g makan nasi itik dekat hyde park corner. naik bas no.7 depan primark berhenti dekat westborne grove
it's for my future reference coz selalu argue ngan my hubby nak kena naik bas no berapa sampai sesat sesat lol
lupa pulak sebelum ke primark we all gi breakfast dulu makan fish & chips. hahaha breakfast? fish & chips? kihkihkih. lantakla kan. sejuk sejuk ni cepat lapar :(
our "breakfast". sorang satu! bahahaha


hari ketiga dan hari seterusnya bersambung nanti. hmmmm. nanti panjang sangat, malas pulak nak baca kan? hehehe.