I've shopped quite a couple of online shops before but the one that I love the most is definitely from
Maysaa London
. Their customer service exceeded my expectation, items were dispatched and delivered just within 1-2 days! and I simply love love love loveeeee their packaging. sangat sangat cantik okay, sampai rasa sayangla I nak bukak :p
Masa first time tu, I bought their famous chiffon scarf snood and of course lah I love them to bits. It is very easy to wear (requires no pin), lightweight, suits my chubby face shape, and it's so stylish. Good job
Hana Tajima
! I really wish they will come in different colors soon!
£19 Chiffon Scarf Snood
My sis berkenan bila tengok I pakai. She tried mine, ye lah mana tau kan kot kot tak sesuai ngan muka dia but of course lah bila dah try tu she fell in love with it! That chiffon scarf snood suits most face shapes :) So yesterday, I've bought another two chiffon scarf snoods and also
jersey insert satin hoodie
(for my sis okay)
nanti my other half tu ingat i ni tak abis abis shopping online
. I was surprised to see the parcel in the office pagi tadi as I expect semua tu sampai esok. Oh I love love love Maysaa. Now, I semakin tak sabar tunggu Maysaa restock their
satin wrap band snood
! They've announced kat facebook that they gonna restock them in other colors as well!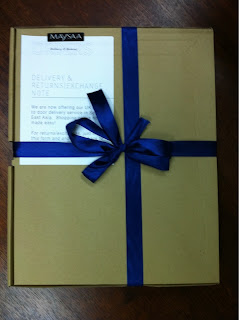 ♥

the packaging!