Happy belated CNY! huhu dah habis Chap Goh Meh baru teringat nak wish CNY :p ni gara-gara last weekend we all had
Yee Sang
for our family dinner @
Bangsar Seafood Garden Restaurant
. I never ever tasted
Yee Sang
before.
hehe ingat ke tak halal benda alah ni :p
Y
ee Sang
is actually a Chinese raw fish salad. The main ingredients of this salad include slices of raw salmon, pickled fruits & vegetables, crackers, carrots, pamelos, roasted peanuts and a variety of sauces and condiments.
My First Yee Sang!
The best part in eating
Yee Sang
is when all of us had to toss the ingredients
with our chopsticks together. The higher the toss, the higher your fortune growth! (ye ke? kekeke kitorang takda la toss tinggi tinggi pon). I really love how all the ingredients mixed creating the perfect taste. Crunchy and soft at the same time. Lovely!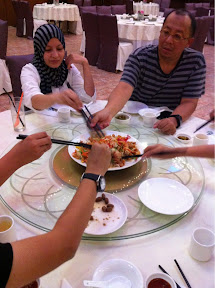 Time To Toss!!
Apart from
Yee Sang
we also had these....Thank you Abah & Mama for these lovely dinner :)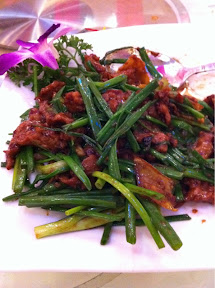 Stir Fried Venison with Spring Onion & Ginger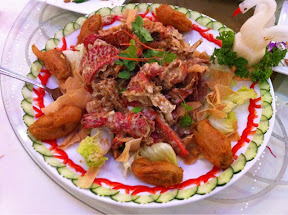 Lobster Baked in Butter Sauce (ye ke? alamak lupa laa :p)
Steamed Fish in Soy Sauce
Roasted Crispy Chicken